Click on the Movie Posters to the right, to watch the movie's preview and view additional information!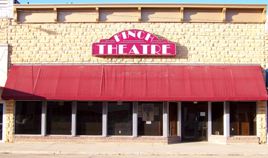 The Bud Finch Memorial Community Theatre Foundation was established as a 501(c)(3) non-profit, community based corporation in October 1994. The following goals were established:
To provide a multipurpose facility for movies, the performing arts, community meetings, and reunions that would serve the community.
To provide a place for youth in the community.
To foster local talent in a variety of areas, such as actors, directors, technicians, graphic artists, musicians, and other performers.
To provide opportunities for cultural and educational experiences for a wide variety of tastes and ages.
To cooperate with other local agencies such as the Lincoln Arts & Humanities Center and the county schools.
Dec 6 - Dec 8
Ford v Ferrari (PG-13)
Fri. & Sat.: 7 pm
Sun.: 3 pm
Running Time: 2 hr 32 min
Ford v Ferrari
Academy Award-winners Matt Damon and Christian Bale star in FORD v FERRARI, based on the remarkable true story of the visionary American car designer Carroll Shelby (Damon) and the fearless British-born driver Ken Miles (Bale), who together battled corporate interference, the laws of physics, and their own personal demons to build a revolutionary race car for Ford Motor Company and take on the dominating race cars of Enzo Ferrari at the 24 Hours of Le Mans in France in 1966.
Running Time:&nbsp 2 hr 32 min
Genre:&nbsp Drama
Director:&nbsp James Mangold
Cast:&nbsp Matt Damon, Christian Bale, Jon Bernthal, Caitriona Balfe, Tracy Letts, Josh Lucas, Noah Jupe, Remo Girone, Ray McKinnon